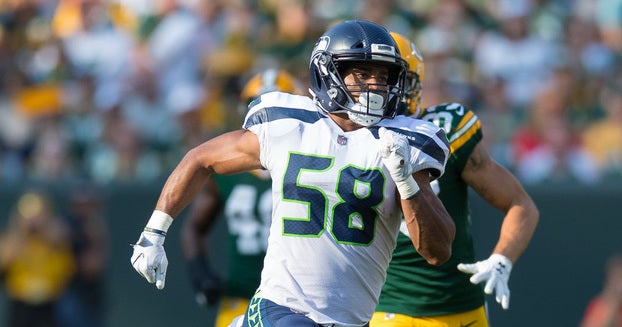 The Seattle Seahawks cut machine has began to start chopping. After months and months of free agents signings, trades, offseason workouts and meaningless football games, the time has come to finally get down to brass tax and the Seahawks started with linebacker D.J. Alexander which likely makes ways for undrafted sophomore Austin Calitro to backup Bobby Wagner at middle linebacker.
The Seahawks acquired Alexander last year from the Kansas City Chiefs in exchange for Kevin Pierre-Louis who was set to become a free agent last offseason. Alexander had two years remaining on his deal. The Pro Bowl special teamer was solid in year one with Seahawks with 10 tackles in 12 games. Nagging injuries would become the story of his Seattle tenure. Now the linebacker himself essentially announced his roster fate late Friday night.
"It's been fun Seattle on to the next," Alexander stated via Twitter.
Alexander struggled to get on the field this preseason and thus couldn't hold his spot after being converted from weakside linebacker behind K.J. Wright and moved behind Bobby Wagner instead. But, he was squarely outplayed by Calitro who was healthy in every game. He was second on the team in tackles this preseason with 21 along with two sacks, two tackles for losses and a quarterback hit.
(Seahawks preseason is over and roster cuts are on deck. Don't MISS any critical updates. Stay informed right along with us — take five seconds to Sign up for our Free Seahawks newsletter now!)
Meanwhile Alexander wasn't heard from this preseason.
The Seahawks 53-man roster will be under particular scrutiny this year. Following the offseason losses of Pro Bowlers Richard Sherman, Jimmy Graham, Sheldon Richardson, Michael Bennett, Kam Chancellor (still employed but shut down for the season) and Cliff Avril along with talents like Paul Richardson and DeShawn Shead, the Seahawks are retooling their roster with young defenders and trying to improve their offensive weaponry. They've already extended Duane Brown and Tyler Lockett this offseason.
The Seahawks have a plan to retool their roster and it starts with a rededication to the run game through new offensive coordinator Brian Schottenheimer and offensive line coach Mike Solaria and trinkles through returning four of five starters on the offensive line and reconfiguring their defense.
With Duane Brown, Ethan Pocic, Justin Britt and Germain Ifedi all back while adding D.J. Fluker, the Seahawks have shown this preseason they can run the ball yet again and have kept Russell Wilson fairly protected. Add to that the addition of Jaron Brown and Brandon Marshall to Doug Baldwin and Tyler Lockett and you have a recipe for success.
On defense, they're fitting in young players to new spots like Rasheem Green where Bennett once was, Shaquill Griffin where Sherman once was, and Bradley McDougald where Chancellor once was. But they need other players to fill out the depth as part of the process.
Turns out Alexander wasn't apart of that process because he just couldn't get on the field but Pete Carroll was sure to mention how much every player on the training camp roster meant to him and brought a new engery and focus. The Seahawks will say goodbye to even more players before the 4 p.m ET roster cut deadline on Saturday. But the process is now fully underway. Let the agony begin as we move slowly to the final 53-man roster coming to fruition and two Sundays from now, real football returns to the Emerald City.