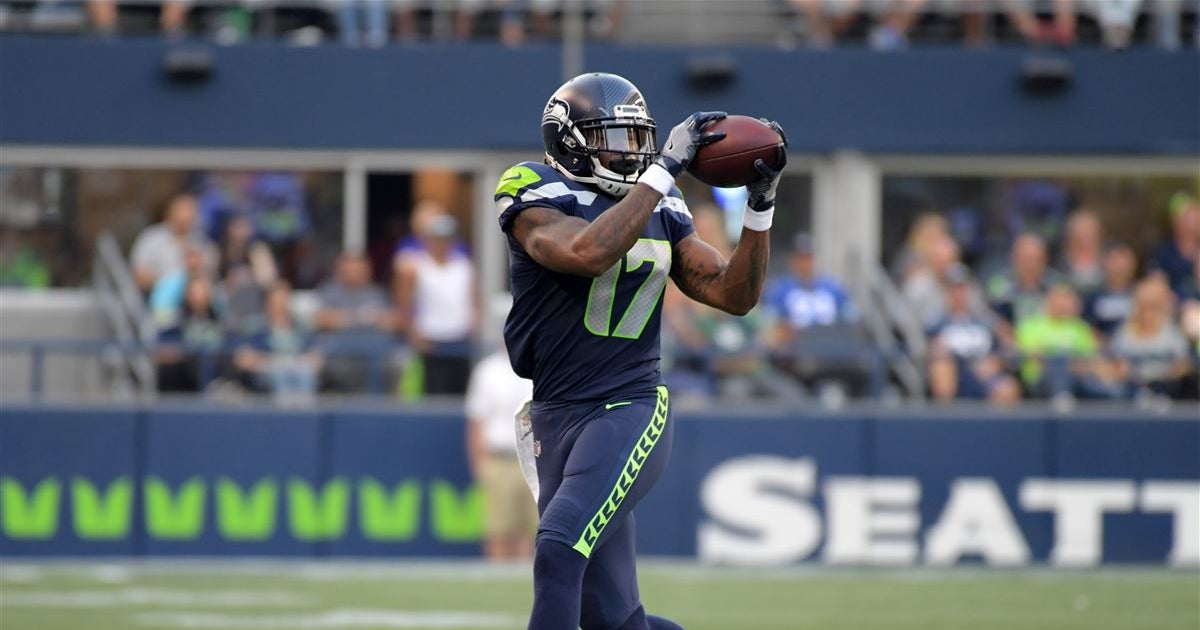 Building a roster is hard to do especially when you have so many options available. The NFL was a regular smorgasbord of options over the weekend and the Seattle Seahawks took liberal advantage of it. With every team cutting at least 37 players all at the same, the Seahawks used the waiver claim system to pickup an additional cornerback/safety (Simeon Thomas), versatile safety (Shalom Luani), guard (Jordan Simmons) and linebacker (Jermaine Grace).
They also used the leftover players to largely fill out their practice squad. After raving about what every player gave them throughout training camp and preseason, five of the ten practice squad players were from other organizations' roster cuts and not their own. One was an old friend in tight end Marcus Lucas but more were development players they wanted to take a look at such as big offensive lineman Elijah Nkansah (6-6, 311 pounds) or defensive tackle Frank Herron who had nine tackles for the New England Patriots this preseason.
Let's be clear. The Seahawks have plenty of time to bring anyone back after they get a look at anyone they want and the behind the scenes element of making a roster looms large here. Some of these players may not have been offered a chance on the team's practice squad. Some of these players may have been offered and declined because they didn't like their preseason experience or wanted to hold out for a potential 53-man roster spot down the road. And some may have just wanted a fresh start.
There's truly no way of knowing unless the team, agent or player speaks to the decision and a practice squad candidate is normally not going to do that and neither will an organization speak freely on these decisions.
All that being said, the Seahawks first practice squad  roster had some glaring omissions on it. The biggest two being wide receiver Damore'ea Stringfellow and tight end Tyrone Swoopes.
Due to waivers claims, the organization lost two players they liked off the bat. Wide receiver Amara Darboh — one of the team's four 2017 third-round picks — was claimed by the Patriots off waivers and he likely would have been on the practice squad. He had a rough preseason due to injury missing all fours games but likely the team wanted to stash him for another season due to his versatility and height. The team may have brought back outside linebacker D.J. Alexander to their main roster on Monday when they moved running back J.D. McKissic to Injured Reserve but Alexander was already claimed off waivers by the Philadelphia Eagles; instead, they claimed Grace of waivers to back up Shaquem Griffin.
(Seahawks 53-man roster is official but that doesn't mean it won't change. Don't MISS any critical updates. Stay informed right along with us — take five seconds to Sign up for our Free Seahawks newsletter now!)
But Stringfellow and Swoopes remain free agents right now. With the lose of Darboh and Brandon Marshall likely only in town for one season, the Seahawks could use a big wide receiver for the future. Stringfellow checks all those boxes. Carroll talked about his catches radius and big play ability every chance he got during the preseason and Stringfellow flashed those skills himself in preseason game number four. He nabbed a majestic 81-yard touchdown in the preseason final to finish the four-game slate with 110 yards on four catches. Did Caleb Scott and Keenan Reynolds displace Stringfellow in the practice squad roster?
TOUCHDOWN DAMORE'EA STRINGFELLOW!

Absolute MONEY throw by Austin Davis… Hits Stringfellow right in his outstretched hands on the fade route. Perfect placement after a stutter jab step release to the inside. #Seahawkspic.twitter.com/sS9ltkYB22


— Samuel Gold (@SamuelRGold) August 31, 2018
Reynolds makes sense. He and Stringfellow or Marcus Johnson were likely the final contenders for a sixth wide receiver spot that never actually came to exist. The Seahawks elected to only carry five wideouts. Reynolds unlike Stringfellow or Johnson reminds of Doug Baldwin with his skill set and he may be an injury away from a call up. Scott doesn't seem to boast the same NFL readiness. The undrafted rookie out of Vanderbilt flashed solid hands with 91 yards on five catches including a 55-yard hail mary catch just short of the end zone but Stringfellow has the higher upside. Did the big wideout not wish to return to the Seahawks practice squad or did Scott just beat him out?
Meanwhile, the team looks to have chosen Lucas over Swoopes, which is a bit of a surprise considering the development they've already invested in Swoopes. He was on their practice squad last season but Lucas has been on their practice squad in a prior season as well. Swoopes had 33 yards on four receptions which was outpaced by Lucas' 59 yards and a touchdown on 10 receptions. But, the Lions use their tight ends differently than the Seahawks now. In Seattle, the tight end is an extension of the run game again and Swoopes big frame and athleticism seem to fit that mold. Maybe Lucas' utility as a practice squad tight end who could mimic other big play tight ends helps him here or maybe Swoopes wanted a fresh start after missing the roster just barely the last two seasons.
It had to smart that the Seahawks acquired tight end Darrell Daniels via trade from the Indianapolis Colts instead of keeping him on the roster when it was decided Ed Dickson would be placed on the non football injury list to start the season. Perhaps, the two sides couldn't come back together after that decision.
Other notable players left off the roster include cornerback Jeremy Boykins, outside linebacker Jacob Pugh and safeties Lorenzo Jerome and Mike Tyson.
All except Tyson got the talk up treatment from Carroll or the team this preseason. Boykins — a lengthy cornerback out of UCF — received first team reps before Dontae Johnson returned to the fold and snatched the starting right cornerback spot. Pugh seemed like another version of Jacob Martin, which could have landed him a practice squad spot in case of emergency for a Martin injury and Carroll talked up Jerome as a special teams animal with a solid football mind at safety. Tyson — a 2017 sixth-round pick who could play cornerback or free safety in their system — just seems like a player they'd like to keep around considering the draft investment. Of all the players named, he's the only one elsewhere at the moment. He signed with the Houston Texans practice squad.
Whether by team or player choice, the Seahawks lost a significant portion of talent they've been hyping up throughout camp and for some even over the last two years. They lost potential development growth and system knowledge time spent with Tyson and Swoopes' departures and young solid backup options should injuries arise with Pugh, Jerome and Boykins.
So should an injury arise and the Seahawks need to fill a spot on their practice squad or main roster don't be surprised if any of these names come up again or with the fluid nature of the practice squad, one of these names could be signed today, tomorrow or next week. The one thing about a practice squad snub is it's easily fixable.